FAQs for eScooter Renters
If I don't know how to ride a bicycle, can I ride an eScooter?
No.
What is the difference between an eScooter/eBike and an Power Assisted Bicycle?
An eScooter/eBike is powered by a hand throttle and is not pedalled. A Power Assisted Bicycle, on the other hand is Bicycle style, but battery powered and/or pedalled.
What should I wear?
We recommend running shoes or sports shoes. Sandals are fine if they are firmly affixed to your foot. Short skirts or very long skirts will not be a safe or comfortable option.
Are there weight or height restrictions?
We have found that the minimum weight to safely operate the scooters is about 110 lb minimum and height should be at least 5 feet tall. We have lower riding scooters for people who are over 5 feet but shorter than 5' 4". Our scooters have a load capacity of 300 lb.
Power Assisted Bicycles do not necessarily have the same restrictions.
What model of eScooter/ eBike will I be renting?
For performance, maneuverability, range and ease of use, we utilize our lithium powered Emmo URBAN models as shown in the picture below.
Do you offer Power Assisted Bicycle Style eBikes?
Yes, we have a limited number of Power Assisted Bicycles available. See images below.
Is a security deposit required?
Yes, a refundable security deposit of $100 per scooter is required at the time of your arrival (through Visa or MasterCard).
Can two people ride on the scooter?
We allow only one rider per eScooter
How old do I have to be to rent an eScooter?
We require rider to be 18 or older, or 16 (legal limit) if accompanied by older family members.
Can the eScooters be pedalled?
It is not recommended due to the design of the scooter but, this does not apply to the Power Assisted Bicycles which require some pedaling.
How far can I go on one battery charge?
Generally 50 to 65 km under ideal conditions. Our eScooters are intended to be used as an alternate way of visiting all that the area has to offer. If you have no intention of stopping along the way, you're missing the point.
How long is a "full day" rental?
We consider any 7 hours within our operating hours to be a full day.
Do I have to commit to the length of time I want the scooters?


No. The minimum rental rate is 3 hours, but you pay for your rental when you return the scooters to eSkoot at which time we calculate your total price. So you can keep the scooters for up to 7 hours, or return them when you feel like it.

Are there limits to where I can take my rental scooter?
Yes, we ask that you stay within approximately a 12 km radius of downtown Niagara-on-the-Lake, which gives ample range to visit the Town of Queenston and most area wineries, etc. Boundaries are shown on the eSkoot Riders map. The Morning in Town special is limited to Old Town Niagara-on-the-Lake. These limits do not apply to the Power Assisted Bicycles.
Can I ride an eScooter on the bike paths?
Yes! Ontario law views eScooters in the same way as traditional bicycles....but we strictly enforce a 15 km/h speed limit and the "Wheels yield to Heels" rule when using the shared Niagara Parks Commission recreational trails. NO SIDEWALKS!
Do I need a Driver's Licence or insurance to rent an eScooter?
No
Can I reserve a scooter in advance?
Yes, it is recommended. Fill out the

form here

to request booking dates and times and we will confirm with you.
Will you supply the helmet?
Yes, helmets are mandatory and we supply them,. If you have them, we strongly suggest youbring your own cycling helmet which is all that is required by law. We also have complimentary backpacks available for your use.
No pedalling required. Our most popular model!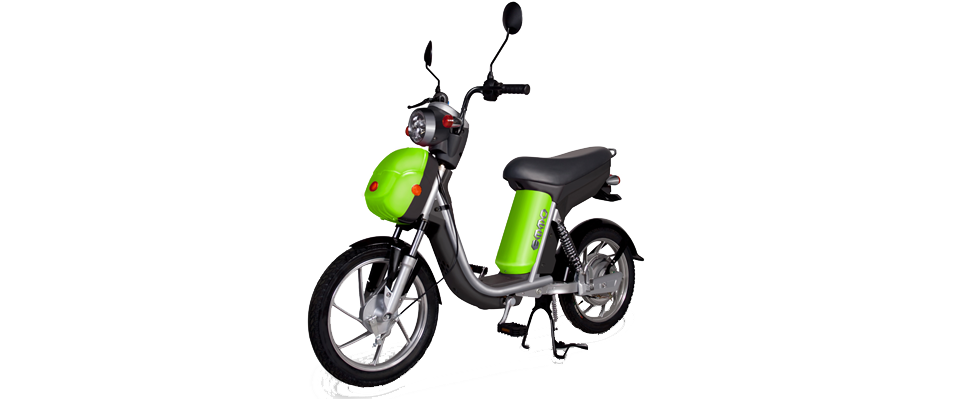 Other available options. Pedalling Required